Network:

HBO

Series Premiere Date:

Oct 20, 2018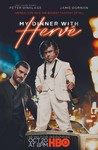 until day of season premiere
Summary:

Newly sober journalist Danny Tate (Jamie Dornan) finds himself spending one rollicking night in Los Angeles with Fantasy Island actor Hervé Villechaize (Peter Dinklage) in this movie inspired by real events directed and co-written by Sacha Gervasi.

Genre(s):

Drama

,

Movie/Mini-Series
Show Type:

TV Movie

Season 1 premiere date:

Oct 20, 2018

Episode Length:

106
The film is mostly a dance between Dinklage (also an executive producer here) and Dornan, who rises to the occasion and gives the best performance of his career as a man struggling to hang on to his sobriety even as he's dragged through a hell of Los Angeles.

The Danny plot is fine--nothing special really, although Dornan is excellent and manages to bring a good sense of transformation to an underwritten character. ... But Dinklage, like Dornan, manages to convey a fully dimensional person despite the skipping of narrative steps.

As Danny, Dornan makes a fine and necessarily sweaty foil for Dinklage, though the paralleling of his own ruined work and home life to Villechaize's never quite works. ... It's a searing and vulnerable turn from Dinklage.

It doesn't do enough to center [Hervé Villechaize's] story, focusing instead on how the star changed a journalist's life. But it will begin to make you see Villechaize in a new light, not least because of Peter Dinklage's performance. Dinklage inhabits the late actor's unique diction and the ballistic energy he brought to his performances and, later, to annihilating himself. It's a turn that's sensitively calibrated despite its mania.

Dinklage turns in a fine performance, but his passion project is otherwise a standard-issue biopic.