Network:

HBO

Series Premiere Date:

Oct 14, 2018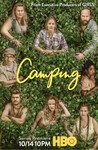 Summary:

The 45th birthday camping trip organized by the very controlling Kathryn McSorley-Jodell (Jennifer Garner) for her husband Walt (David Tennant) is filled with tension as relationships are tested including those of her sister Carleen (Ione Skye), their friends Nina-Joy (Janicza Bravo),

The 45th birthday camping trip organized by the very controlling Kathryn McSorley-Jodell (Jennifer Garner) for her husband Walt (David Tennant) is filled with tension as relationships are tested including those of her sister Carleen (Ione Skye), their friends Nina-Joy (Janicza Bravo), Nina-Joy's husband and Walt's best friend George (Brett Gelman), free-spirited Jandice (Juliette Lewis), recently separated Miguel (Arturo Del Puerto), and gun and women-loving Harry (Bridget Everett) in this comedy based on the British series of the same name.

…

Expand

Genre(s):

Comedy
Season 1 premiere date:

Oct 14, 2018

Episode Length:

30
A very funny, quasi-cringy series that takes the Sartre-esque point of view into the great outdoors.

When Camping allows itself to dial back the quirk, it delivers some laugh-out-loud moments and emotional observations about marriage and femininity. ... Camping is not perfect, but if it allows Jennifer Garner to explode with the white-hot rage of aggrieved womanhood, it will all be worth it.

I just wish it were possible to get more of a consistent kick out of Camping, which boasts laugh-out-loud lines and enjoyably boisterous work from its cast, but too often, is grating instead of darkly funny.

Mostly it looks down its nose at almost all of its strident-in-their-own-way characters. Juliette Lewis ("Cape Fear") enlivens the series as a crunchy hippie who clashes with Kathryn, but ultimately she's as much a caricature as all the others.

Garner gives Kathryn a nicely manic energy and a comically absurd kind of shrewishness. But Dunham and Konner, who co-wrote the first two episodes, seem to want to comprehend Kathryn's awfulness rather than to present it as a simple reality in a comic setup. ... Otherwise, Camping has a zany mood and typically sharp writing that makes it more watchable in later episodes (particularly when Busy Philipps suddenly shows up). ... Camping isn't bad either, necessarily, it's just filled with a kind of empathy that's rather out of place.

Camping does have a good, energetic cast but they too never quite find their groove as fish-out-of-water in this would-be fish-out-of-water farce. Like Dunham and Konner, they all seem like they'd rather be someplace else--anyplace else would do.

What is the point of this show? If it's not laughs or personal growth, is it just a slice-of-life comedy about unlikable people? That's not enough, especially in this overcrowded TV landscape. ... Despite high hopes for this combination of Dunham's writing talent and Garner's charisma, there just isn't enough over the first four episodes to really make this a comedy worth tuning into. You can skip this Camping trip.
A US remake of a British series (that I didn't watch so I can't compare). Great cast, and good script but it got a 8 from me as I think

A US remake of a British series (that I didn't watch so I can't compare). Great cast, and good script but it got a 8 from me as I think Jennifer Garner (so good in dramas) overacts a bit too much.

David Tennant and Juliette Lewis always perfect and a pleasure to watch

…

Expand