Publisher:

Nintendo

Release Date:

Sep 14, 2018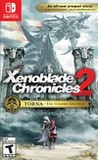 Summary:

Guide a group of legendary warriors on a journey through the tragic history that doomed a kingdom and drove a hero down a dark path 500 years before the events of the Xenoblade Chronicles 2 game. Defend yourself from Malos and his forces using all the fury of this refined battle system,

Guide a group of legendary warriors on a journey through the tragic history that doomed a kingdom and drove a hero down a dark path 500 years before the events of the Xenoblade Chronicles 2 game. Defend yourself from Malos and his forces using all the fury of this refined battle system, allowing you to fight as both the artificial lifeforms known as Blades and their masters, the Drivers.

…

Expand
Developer:

Monolith Soft

Genre(s):

Role-Playing

,

Action RPG

Cheats:

On GameFAQs

Rating:

T
Please enter your birth date to watch this video:
You are not allowed to view this material at this time.
Xenoblade Chronicles 2 - Official Expansion Pass Trailer
Several times during my playthrough of Torna, I found myself thinking that, in some ways, it might actually be a better experience than Xenoblade Chronicles 2, which is perhaps a shocking thing for me to say because I very much enjoyed the original game. The more mature tone, focused cast, and refined gameplay are definite pluses, and even though the scope of both the world and the time you spend in it is far smaller, this can play to the game's strengths. Those who liked the original game will almost certainly like Torna.

Nintendo Switch is no stranger to DLC and add-on content, but few expansions are as vast in their size and content as Xenoblade Chronicles 2: Torna - The Golden Country. Whether you're a season pass holder looking to revisit a series you love from a new perspective, or you're fresh to the franchise and want a standalone adventure, this hefty slice of JRPG action will grab you right from the moment you start switching between Blade and Driver. With some welcome adjustments to combat and combos, this is a fine addition to an already brilliant game on Switch.

Torna: The Golden Country makes for a fantastic place to start in the series and an essential play for anyone that enjoyed Xenoblade Chronicles 2.

Torna didn't need to re-invent the wheel beyond its swap conceit. Monolith Soft is already perfectly capable of crafting giant worlds worth exploring and characters worth listening to or getting invested in.

XC2: Torna - The Golden Country is a wonderful add-on to an already great game, but as a standalone experience it doesn't quite work.

The odd style of pacing and sidequest focus can be off-putting for some, but taken as a whole Torna is a fantastic piece of additional content for a massive JRPG.

An ambitious addition to an already enormous game, but by stripping away many of the features on the sides of the experience, you're left with a game that never quite finds the highs present in the original game.
This game manages to be an expansion on the first game whilst also managing to be a separate game.
The Music is amazing, and graphics aThis game manages to be an expansion on the first game whilst also managing to be a separate game.
The Music is amazing, and graphics a slight improvement from Xenoblade 2.
The story expands on the first game and provides extra details of Jin's journey to becoming who he is in Xenoblade Chronicles 2. The story is around 25 hours and is, in my opinion, one of the greatest Nintendo DLC released to this date. My only complaint is the addition which makes you complete sidequests to advance. Otherwise, this is a 10/10.

…

Expand

Review/Reseña (English/Español)

Score/Nota: 10/10 Hands down, for the best expansion of Nintendo's history; even superior to otherReview/Reseña (English/Español)

Score/Nota: 10/10

Hands down, for the best expansion of Nintendo's history; even superior to other popular ones like The Witcher 3.

It almost took a year of updates after the updates, where problems and errors are corrected and, simplified mechanisms and new customization elements were added, for free. However, when it comes to the expansion itself, the amount of substantial content that was added is brutal so that the time you spend at Alrest never ends.

The icing on the cake is Torna; This kind of independent "mini" Xenoblade, which, in its 20-22 hrs for complete the main story with a couple of things in the middle (45-50 hrs if you want to complete it at 100%), is undoubtedly the aggregate that was needed to close with classy, the better and bigger story that the Switch catalog has to offer.

With a more obscure and focused narrative of story (that seemed to be a kind of attempt to generate reminiscence towards Xenogears), a cast of solid and endearing characters, new elite music, refreshing zones for explore, refined combat system (more agile and dynamic), new mechanics (camping and communities), and a lot of aditional content, like secondary missions, as well as monsters and objects to be achieved, they build a spectacular conglomerate, that does not do more than grant applause and congratulations to the boys of Monolith for tremendous "opus".

It seemed that 2018 would be decaffeinated for Nintendo and its console, but seeing that among its arsenal is the Genial "Octopath Traveler", the glorious "Ultimate" in Christmast, and the best expansion in the last decade; we could say that it will come out very well, facing the promising and bright future that will be 2019. 10/10

------------------------------------------------------------------------------------------

Manos hacia abajo, para la mejor expansión de la historia de Nintendo; incluso superior a otras populares como las de The Witcher 3.

Tomo casi un año de actualizaciones, donde se corregían problemas o bugs, y se añadían mecánicas simplificadas y nuevos elementos de personalización, de forma gratuita. Sin embargo, en cuanto a lo que la expansión en sí se refiere, es brutal la cantidad de contenido sustancial que se agregó para hacer que el tiempo que pases en Alrest nunca termine.

La guinda del pastel es Torna; esta especie de "mini" Xenoblade independiente, el cual, en sus 20-22 hrs de duración de partida (45-50 hrs si quieres completarlo al 100%), es sin dudas el agregado que hacía falta para cerrar con broche de oro la mejor y más grande historia que el catálogo de Switch tiene que ofrecer.

Con una narrativa más oscura y enfocada (que pareciera fuese una especie de intento por generar reminiscencia hacia Xenogears), un cast de personajes sólidos y entrañables, nueva música de élite, zonas explorables refrescantes, sistema de combate refinado (más agíl y dinámico), nuevas mécanicas (acampar y comunidades) y toneladas de contenido secundario, como misiones, así como monstruos y objetos por conseguir; construyen un conglomerado que no hace más que otorgar aplausos y felicitaciones a los chicos de Monolith por tremenda "opus".

Parecía que el 2018 sería descafeinado para Nintendo y su consola, pero viendo que entre su arsenal está el genial "Octopath Traveler", el glorioso "Ultimate" en las navidades, y la mejor expansión en la última década; podríamos decir que saldrá bastante bien parado, de cara al prometedor y brillante futuro que se dislumbra en el 2019. 10/10

…

Expand

*I rated this game as a DLC, even if it's a new game on it's own!*
-The new batttle system made us create new strategies 10/10
-Strong*I rated this game as a DLC, even if it's a new game on it's own!*
-The new batttle system made us create new strategies 10/10
-Strong characters personnalities, including Lora, my new favorite Nintendo female protagonist! 10/10
-The tornian totan made us discover new places, so new possibilities! 10/10
-Short but great story with 3 hours of cutscenes, more than any Fire Emblem! 10/10
-Tragic end that made me seriously cried! 10/10
If you didn't play the main game yes, I can definitively tell you that you can start with the prequel first! Some minors spoilers from the main games, but the bigger ones aren't here, so go!

…

Expand

Battle system fun, story is awesome, music is masterpiece! My only complain: game force you to play side-quests. But at the same time quests

Battle system fun, story is awesome, music is masterpiece! My only complain: game force you to play side-quests. But at the same time quests very fun. 10/10

…

Expand

I Love This World, Because MonolithSoft in it.

Russian/English short review (no spoilers) Великолепное длс, которое вообще можно считатьI Love This World, Because MonolithSoft in it.

Russian/English short review (no spoilers)

Великолепное длс, которое вообще можно считать полноценной новой игрой.

Продолжительность сюжета 10+ часов, если учитывать сайд контент, то можно уйти за 30.

Боевая система очень крута и ощущается довольно свежо, графику подтянули, особенно в портативе. Музыка ВЕЛИКОЛЕПНАЯ. Боевая тема - моё почтение.

Must buy для все владельцев свича, даже если вы еще не играли в оригинальный Xenoblade 2.

Great DLC, which is basically a whole new game.

The Story length is 10+ hours (30-40 if you count side content)

Battle System is GREAT and looks very fresh, graphics is better, especially in portable mode. Music is fantastic (there are some tracks from original game also)

Must Buy for every switch owner, even if you have not played original game.

…

Expand

Hands out, a soild 9/10 game and significantly improves upon a lot of things than base game.

> The characters are all interesting and wellHands out, a soild 9/10 game and significantly improves upon a lot of things than base game.

> The characters are all interesting and well developed topped with a better protagonist than Rex
> The narrative of the game is miles better than the base game and wraps everything in a nice little ribbon
> A much faster pace and revamped battle system allowing you to take control of both Driver and Blade.
> No Gacha and a cleaner UI
> Performance is much better and graphics are prettier.

Cons

> Unfortunately, to continue on with the story it requires the player to build up the Community Level. A mechanic similar to Xenoblade X's Affinity character side missions.

…

Expand

Well I hate to say this, but this game is ACTUALLY a lot better than the main game Xenoblade 2: in fact if I had to review this expansion on

Well I hate to say this, but this game is ACTUALLY a lot better than the main game Xenoblade 2: in fact if I had to review this expansion on its own I'd gladly say that this was a "fun" jrpgs with a fun combat, some good story bits, and overall a decent narrative, basically everything that the main game missed.

I mean, this game LITERALLY fixes every issue I had in the main version: combat is actually faster, and fun, and exciting, and rewarding, gathering is not a chore anymore because with fewer blades (6, 2 for each character) it's much easier to gather stuff up and the game even tells you what the node gives you. Quests are MUCH more precise and tell you everything to do, including where and who to speak, and AUX CORES ARE ALREADY FILLED WHEN YOU GET THEM! Holy **** **** I can't believe they've fixed it in an expansion but not in the god-forsaken main game! Nobody knows how many empty cores I had because I couldn't be fussed to fill them up.

Blades are less now, only 6 like I said, which means less convoluted gameplay and less RNG: combos are easier to do and doesn't require those long and unnecessary complex moves you need to do to put an orb: you just need to use an elemental skill. On the other hand, breaking SAID orbs is much harder...but I think it's a nice change.

The Affinity chart still sucks as usual BUT this is the thing: in here it's better because you only have 6 blades and not only that some charts FINALLY TELL YOU where to go for killing enemies and tyrants! Again, where the **** was this in the main game?!

And to top all of this, the story is actually good and more interesting...I mean not that it required a lot of work mind you but Addam is a FAR superior character than Rex, Lora is interesting and her relationship with Jin is also intriguing (especially if you played the main game), and the Niall-clone is...well okay, Aegeon has more personality here and Brighid is okay too. Mythra is as bad as always.

In addition, you have fewer skills (one less even though you could only put 3) but instead, each blade and character have a passive - THAT'S RIGHT, someone actually got the brilliant idea to finally make each character unique with a passive (or talent). It was too common to see blades with basically the same exact skills with only a few of them being actually unique (I can only think of Perceval and Finch right now) but in here while they do have some similar traits, their unique passives does help differentiate them!
Also you can ACTUALLY play as a blade during fights...I mean that's pretty obvious but not obvious enough to be in the main freaking game!

This was how Xenoblade 2 should've been! Fun and fast combat, interesting characters, relaxing and rewarding quests (seriously the filled aux cores makes everything better) and rewarding characters to play with...so why I'm giving this game a 5? Because this is a goddamn expansion ONLY!

When I saw all of these features I couldn't help but scream "WHY!" every second, because these changes could've made the main game a lot better but instead we had these changes in a 40 buck (or 30 if you got season pass) standalone expansion that barely lasts 10-20 hours.
In addition, this was CLEARLY a playable flashback that was supposed to be played between chapter 5 and 6, it's so clearly obvious: in the main game that was a part of the game where essentially nothing of importance happened and I can bet anything that this was supposed to be a part playable in the main game but they had to scrap for time restraints.

A truly big shame to see what Xenoblade 2 could've actually become, but instead, we have a mediocre semi-action jrpg that is so grindy and unfocused on every level on one hand (XB2), and a good and very well balanced and shaped actual combat jrpg on the other (Torna).

So I'll give this a 5 only because not only it's short (but good), but because if you play this game you will NOT enjoy how backward and how underdeveloped the main game is...but you must play that as well if you want to continue the story and it's hard not to resist.

5+5 is a 10 so in a way, this is a good thing, but it could've been much more than just this...

…

Expand